Twas the week before Christmas, all through the house
All the creatures are stirring, even the mouse;
The stockings are packed by the chimney with care,
In hopes that St. Nicholas soon would be here:
The baked goods were nestled all snug in their tins,
While visions of more cookies danced in the din;
And mamma in her apron and hubby in his lair,
Had just settled in for the last of the baking usually done so rare;
When out in the garage there arose such a clatter,
I sprang from the oven to see what was the matter.
When, what to my wondering eyes should appear,
but a present laden hubby so dear,
Wrapped presents were stacked high already done,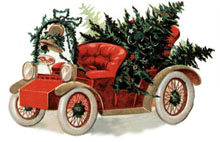 Along with tins of favorites for each of the loved ones.
Now cookies, now caramels, and yes, chocolate fudge,
Then brittle and haystacks, and yes, peanut butter fudge.
"You expect me to get all this in the car, stacked to the wall?'
Yes, dear, I do, so we can dash away all!
p.s. Cooking and baking consumed the stitching time today, but I will be back tomorrow with more progress...hope your shopping and baking and cleaning and cards are done.....I can say mine are now!